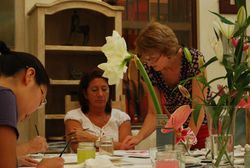 Workshops
Susan has been teaching botanical watercolour workshops since 2010, both at her home in Topsham, Devon and at the Majlis Gallery in Dubai.  She runs the classes throughout the year, providing the flowers to paint and the necessary equipment that you do not have for your first workshop. The workshops are demonstration based and suitable for all standards of painting.  The group size is small so everyone gets the attention they need.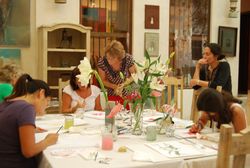 Upcoming Workshops
New dates
Workshops have been stopped because of the Coronavirus and will start again when allowed. I hope you are all keeping well and safe.
Workshops are held in Topsham from 10 am-4 pm and dates can be booked to suit you.  The cost per day is £40 per person.
More workshops will be booked later in the year.
If you would like any more information please click here.